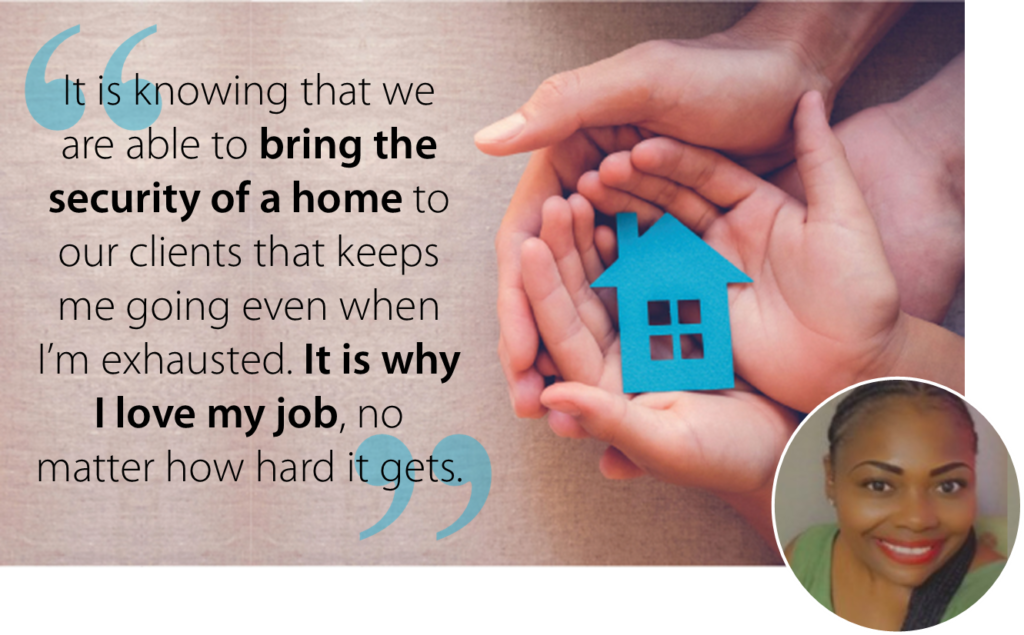 Teresa is a Housing Specialist at SVdP CARES and knows just how important stable housing is for those that are homeless. COVID-19 has placed a stressor on the SVdP CARES team, but staff members like Teresa prove their passion on "…the front lines, providing one of the most essential things of all, housing." To date, 165 households have been moved into permanent housing since the pandemic began!
How have you been able to continue to house homeless individuals during a pandemic?
I have been using the same approach I have always used and relied on established relationships with current landlords. However, it does take more legwork now because a lot of landlords have an increased fear of housing homeless clients due to a preconception that they are more at risk for getting/spreading the virus. I work hard to educate the landlords and break that stereotype. Several landlords have told me that nobody else has approached them looking for rentals and that we are the only agency housing clients at present. This helps me because I am able to present a win/win situation. By renting to our client they are helping a vulnerable person off the street and are also filling their vacancy, so it works out for everyone involved.
How is it that you are still able to recruit new landlords during this pandemic?
I will start by saying that it has been much harder and it has been a lot more work. I find that by consistently contacting potential new landlords and working to make them comfortable, it is still possible to build new relationships. It is important to present myself and our organization with the same confidence as prior to the pandemic.
One thing I do differently is how I approach new landlords regarding how to establish contact. It is important to me that they see me face-to-face as this is how I can successfully build a relationship with them.
I offer a variety of options for 'meeting'. If they are happy to meet in person, I will ensure that proper social distance is kept. If they are fearful of meeting in person, I offer other options, such as Zoom or Skype. The same is true for viewing the home. If they are not comfortable with a personal showing, I will find creative ways around the issue, such as having the landlord leave the key at a designated location, unlocking the door and locking it again after I have viewed the unit. I find this flexibility helps a lot in securing new landlord relationships during this pandemic.
How has outreach changed for you in recent months?
It has been more difficult, not just to meet with landlords but with clients also. Our clients have the same fears and worries as everyone else. Nobody wants to get sick and that makes everyone more cautious about meeting.
As for landlords, many of our landlords are older and fearful of getting sick. I find it takes a lot more legwork and it can be exhausting because you are faced with a lot more Nos than before the pandemic. However, consistency is the answer. I follow up and ease fears, answer questions, and do everything I can in order to turn that No into a Yes.
How do you ensure clients get the resources they need with so many services closed down?
The key to providing our clients with what they need is the community partnerships that were built prior to this pandemic. I circle back to those a lot and due to the mutual respect, many of these partners are able to go to extra mile for us.
Agencies that provide us with furniture for example are aware that we are the only agency still housing, and will often provide us with the furniture we need, even if they are closed.
For example, a local thrift store which provides us with furniture, linens and household items is closed at the moment, but because of the connection I have been able to build with the owner, she is willing to still open her shop to let us collect items we need for a move in.
The same is true for food pantries. These partnerships are even more essential in these difficult times than ever before.
If you had one thing to say to those who support our work, what would it be?
I would like to let our supporters know that despite all the work we do, supply never meets the demand and additional funding is always needed. Our clients are human beings who, despite stereotypes and preconceptions, do not choose to be homeless, in most cases. They want to be housed and have the opportunity to quarantine properly, to wash their hands whenever they feel the need, and to feel secure in these uncertain times.
Unfortunately, due to the current circumstances, there will be more and more people in need of our services. It is thanks to our supporters and donors that we will be able to be there, alongside nurses and doctors, at the front lines, providing one of the most essential things of all: Housing.
It is knowing that we are able to bring the security of a home to our clients that keeps me going even when I'm exhausted. It is why I love my job, no matter how hard it gets.