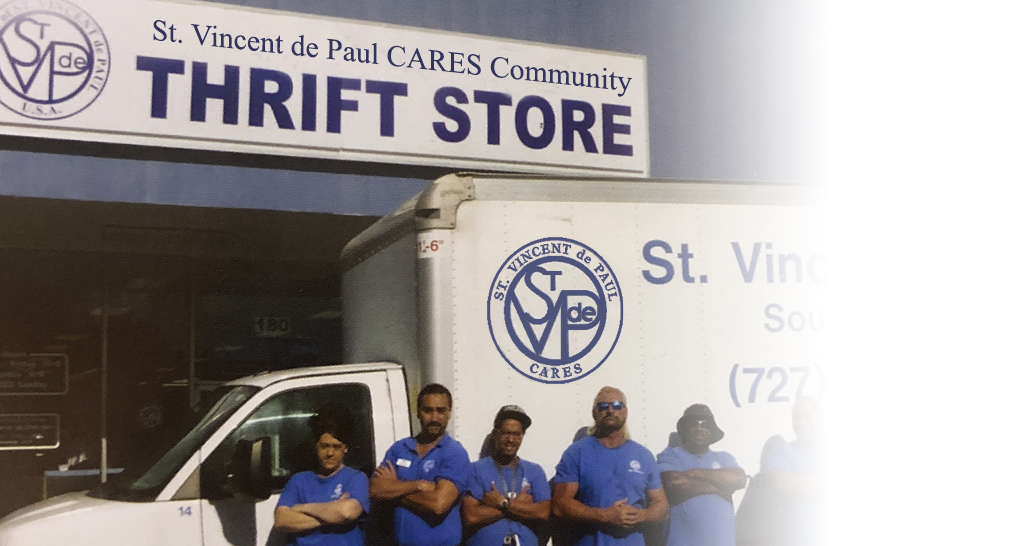 "Community" isn't just a part of our title…
Every item donated to SVdP CARES Community Thrift Store goes back into the community through everyday purchases! With your generous donations, our store is able to provide household goods, clothing, furniture, and other necessities free of charge to those in need through our voucher system, conducted by SVdP CARES and the SVdP Conferences in South Pinellas County. The items that aren't able to be sold or given are recycled.
If that isn't enough, shoppers can feel good knowing that close to 90% of every dollar they spend goes back into the housing programs that give individuals, families, and veterans a hand up from homelessness.
Last fiscal year (2020-2021), SVdP CARES delivered over $45,000 worth of furniture and clothing back into the community, with another $100,000 worth of goods given to anyone in need that walked through the CTS doors!
Volunteer and Community Service
Those looking to volunteer are welcome through the doors of SVdP CARES Community Thrift Store with open arms! We require a minimum of 2-hour shifts to assist full-time staff with day-to-day functions during regular business hours.
For those looking to volunteer, click here
For those needing to fulfill court-ordered community service, click here.
How to Donate
To donate, you can schedule a pickup, bring the items directly to our store, or call (727) 328-2730 for more information.
Please click here to view our Donation Guidelines
Please note, due to a high volume of requests, pick-up time can be up to a week or more. We apologize for the inconvenience and hope to be caught up soon.
Hours:
Monday – Friday: 10am – 6pm
Saturday: 9am – 5pm
Sunday: CLOSED
Drop-off closes at 5pm on M-F and 4pm on Saturday.