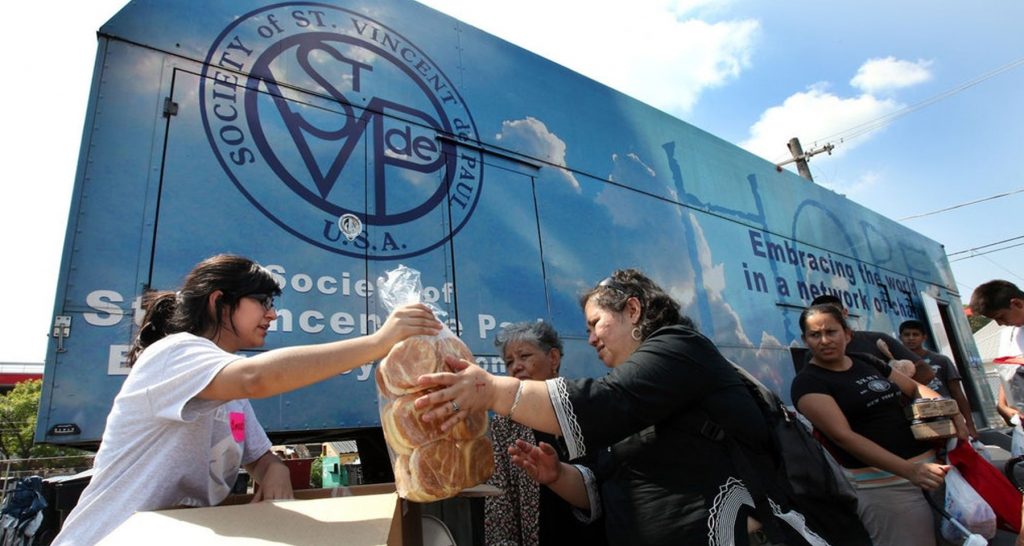 The Society of St. Vincent de Paul was founded in 1833 in Paris, France, following a rapid growth in Europe. 12 years later, the first US Conference was formed in 1895 in St. Louis, Missouri, and is still the home of the Society's national headquarters. 

The country is divided into eight regions with 62 Diocesan Councils, 388 District Councils, 4,327 Conferences and more than 60,000 members. 

The South Pinellas District Council is one of seven of the Diocesan Councils of St. Petersburg. Others are Upper Pinellas, East Hillsborough, West Hillsborough, Pasco, Citrus and Hernando. 

Twelve Conferences, with 275 members, comprise the South Pinellas District, incorporated in 1985. However, the Society has had a presence in St. Petersburg since the formation of a Conference at St. Paul's Church in 1931. 

Each Conference elects its president who then appoints his or her officers. The president automatically becomes a member of the District's Board of Directors which meets monthly to share their experiences in serving clients and to oversee the "Special Works" of the District, those particular programs, such as our Food Center, Center of Hope and Thrift Store, that go beyond the capabilities of individual Conferences. 

At the local level Vincentians visit thousands of homes each year as well as prisons, hospitals and nursing homes, providing assistance to clients in myriad ways. Ten of the 12 Conferences also have food pantries.

The Society is dependent on public support to carry out its mission. Funds are derived from Church poor boxes, special collections, individual donations, social functions and from the members themselves who, at every meeting, make their own donations. As trustees of charitable funds, Vincentians must spend the Society's money wisely, but often err on the side of generosity.
Become a Good Samaritan
100% of donations are used to help end homelessness in our local communities. Consider making a cash donation today!