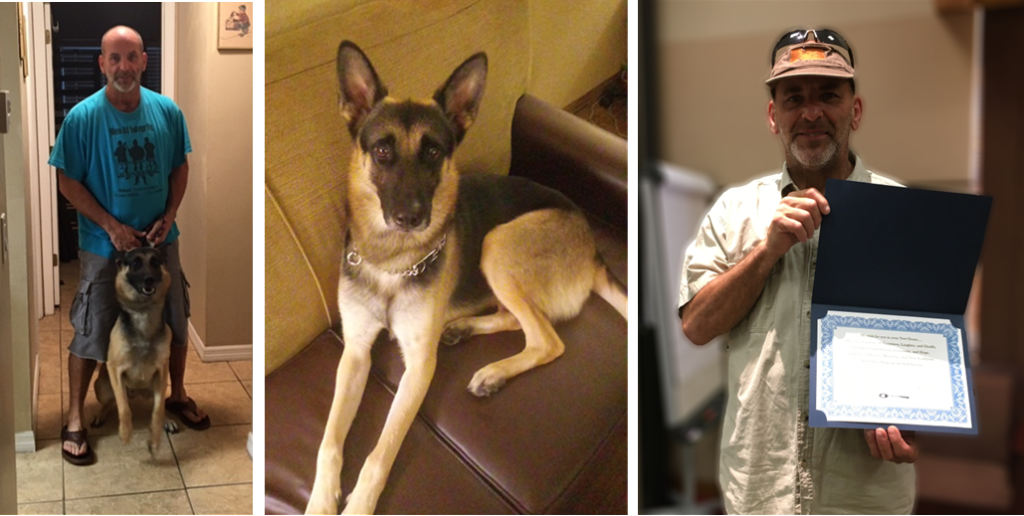 Ed had heard that many people are just one paycheck or one unfortunate circumstance away from homelessness. But he never expected it would happen to him.
He thought he had done everything right. He enlisted with the Marines and even volunteered to go through basic training again when a technicality held up his graduation. Thankfully, Ed was able to overcome the setback with his graduation and successfully entered the Marines.
After his service, Ed worked hard as a contractor, bought a house and cared for his mother as she battled cancer. Her illness took a toll on him physically, emotionally and financially. When she died four years later, he says, "My soul went with her." Then Ed's two largest contracts were pulled and he lost everything: his home, his truck, his belongings. All he had left was his beloved German shepherd. "It was just me, Arrow and my backpack," he says.
When Ed was at his lowest point, SVdP CARES lifted him back up. That meant putting him in a house within just a few weeks — with Arrow, of course. With a roof over his head and his dog at his side, Ed was able to take on the task of getting the rest of his life back in order.
Before long, Ed got a job and began pursuing several contracting projects, repairing and renovating homes. "I had promised Arrow we were going to live a good life again," he says. Thanks to you, Ed is keeping his promise.
"I don't need the big house I had before or all the material things," Ed says of his new life. "I am wealthy in character. You build character and it will define you.
As a contractor, Ed knows building anything — including character — is not a solo project. "The staff at SVdP CARES got me where I am today. Nobody does it by themselves. It takes teamwork," he says.