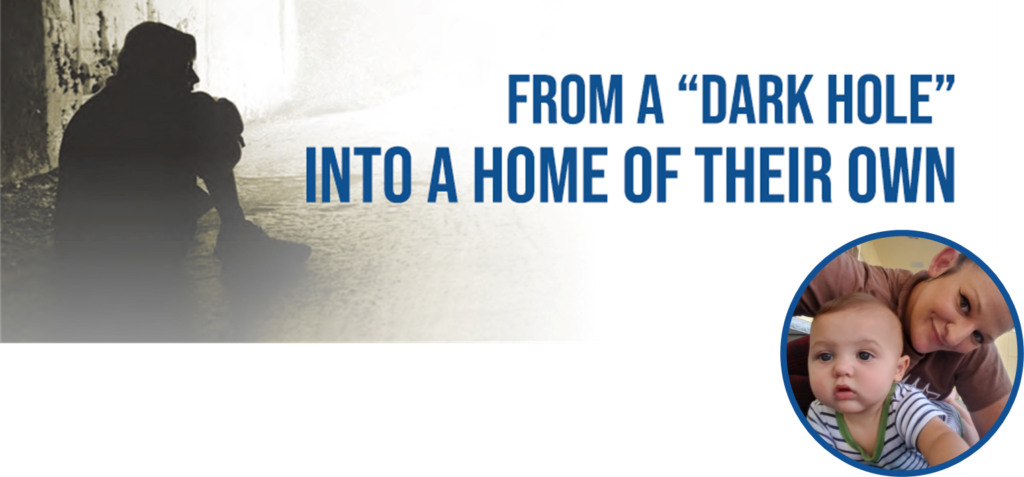 When Erin worked downtown at a high-end hair salon, she often encountered men and women living on the street, many asking for money. As she handed them change and went on her way, she was on a downward path to homelessness herself.
Erin found herself at a pain management office after a car accident, and at a very young age, was prescribed pain medication and fell into addiction. Trapped in an abusive relationship, Erin tried everything she could to keep her life from spiraling into "a dark hole." But going through treatment programs, working with case managers, and applying for housing grants all seemed to lead to a dead end.
Then, Erin became pregnant. She had to get her life back on track for the sake of her baby, but she couldn't find a safe place to raise her child. After a difficult birth and a long hospital stay, Erin had nowhere to go…and her precious newborn boy went into foster care.
Just when Erin thought all her options had run out, a call came that changed her life. It was Jessica, a case manager from St. Vincent de Paul CARES.
"She said they wanted to help me. It was the opposite of what I had experienced for so many years before…for someone trying to fix their situation, who didn't have a lot going for them on paper." Erin remembers.
Erin wasted no time building on that foundation! With help from our staff, she worked through some legal issues and established a plan with the Department of Children and Families to provide for her son.
Our Rapid Rehousing program put Erin into a home she loves. She is drug-free, working full-time and on track to take full custody of her son, now an active and adorable one-year-old. "It's taken a long time and I've worked really hard to get here," Erin tells us. "SVdP CARES has been a super-huge part of that."
In fact, folks like YOU are a super-huge part of changing lives through SVdP CARES. Since last October, people's generosity has blessed hungry people with nearly 93,000 meals at our Food Center. And you are currently helping end homelessness for close to 650 households like Erin's!
Justin Creele, our Program Manager, explains why Erin was such an ideal candidate for Rapid Rehousing. "Erin has a rare determination and work ethic for someone who has gone through so much. She has been accountable for herself and worked tirelessly on goals she established with her case manager."
Erin is determined that she—and her son—will never be homeless again. "I'm finally back to who I was before my addiction started," Erin says gratefully. "I have never been happier."
Many of our neighbors are willing to work as hard as Erin has to get their lives back on track. Incredibly, 85% of them will have a positive housing outcome . . . but we're striving for 100%. Will you help us close that gap? Will you give them a hand up by sending a gift today by clicking here?
"I will be an advocate for SVdP CARES for the rest of my life," You and all the people who give are amazing!"
We think you're amazing too. Thank you for blessing people in need!