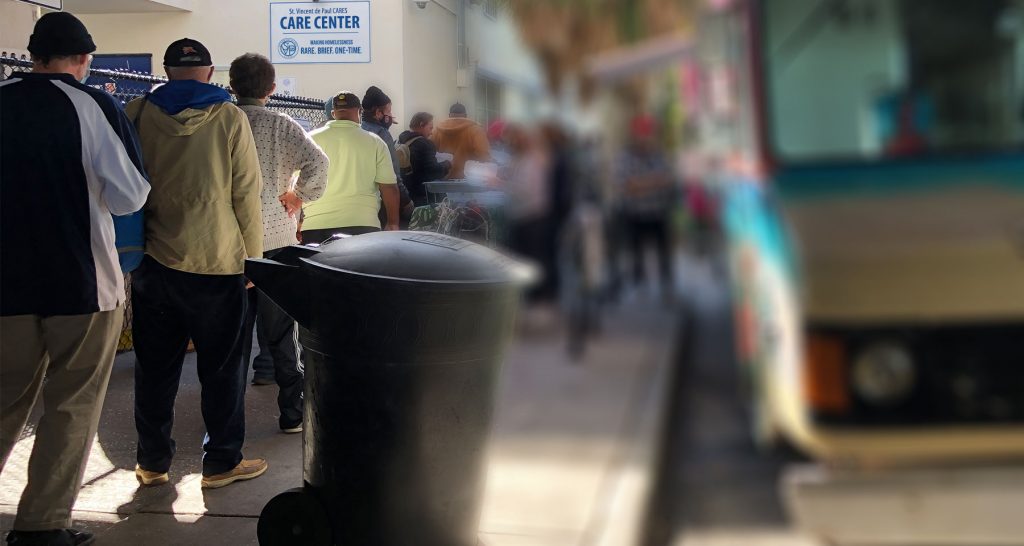 The CARE Center is the point of entry for homeless services, open 365 days a year.
Located on the front right-hand side of SVdP CARES main campus, the CARE Center offers storage units, a shower program, and assistance in applying for benefits and job opportunities for both guests and visitors. With a "housing first" approach, those enrolled in the CARE Center are assessed and placed with counselors who work together on specialized housing plans with the goal of permanent and stable housing.
REGISTRATION HOURS
1:00 pm – 4:00 pm
*based on availability

For more information please contact the CARE Center at (727) 954-8676
CARE Services
Services are available to all those in need of a hand-up. All are welcome and do not have to be a CARE Center guest or enrolled in a program to be served.
Navigation
Those looking to connect to resources including benefits, employment, or outside services may speak to an SVdP CARES Navigator:
HOURS
8:00 am – 10:00 am
4:00 pm – 6:00 pm
Storage Units
Storage lockers are available as a safe place for those who wish to secure personal belongings. This enables individuals the opportunity to attend appointments or interviews with peace of mind in knowing personal items are secure.
HOURS
5:00 am – 8:00 am
6:00 pm – 8:00 pm

Showers
Anyone in need of a shower may come to the CARE Center entrance during the below hours:
HOURS
2:00 pm – 4:00 pm
*based on availability
This unique program is made possible through donations of towels and personal products. Donations of soap, soap cutters, shampoo, conditioner, towels, and washcloths are always welcome. Sample size and opened bottles are appreciated.
Donate Supplies
Donations can be made daily between 9am – 5pm.
The CARE Center entrance is located on the corner of 5th Avenue and 15th Street