In 2020, the CARE Center began the shift from a shelter that maintains homelessness to one that is ending it. One of the changes implemented was committing funds and resources to mental health, which included hiring a dedicated case manager trained in mental health practices. Today, the CARE Center is close to a 50% positive destination rate – housing over 40% more individuals than the state average for homeless shelters.
---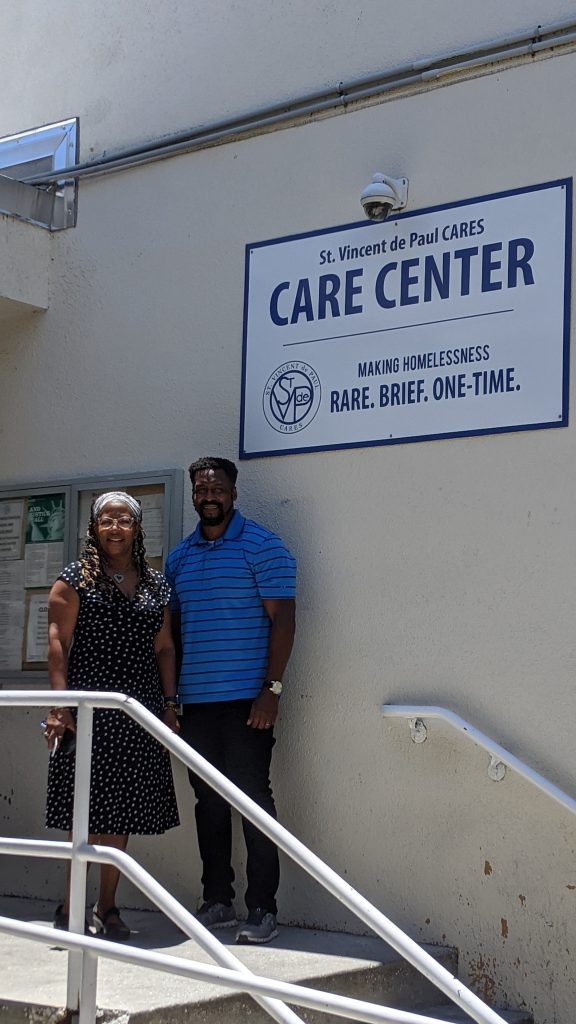 Anthony was hired as a mental health case manager in the Spring of 2021. He was brought in because of his background in mental health services including specialized skills and training. Now, a little more than a year since he came to SVdP CARES, Anthony and CARE Center Manager, Leota, sit down with Mary Burns-Montante to discuss how the CARE Center is setting the shelter standard for mental health.
What is your role when a guest enters the CARE Center?
Anthony: Once someone walks through the doors they go through an intake process, where they are assessed and asked a series of screening questions to see where they fall on the acuity scale. Basically, this is a tool we use that gives us get a better idea of what housing setting is right for the individual. Guests are asked to report a number of risk factors including the length of homelessness, various medical conditions, substance use, mental health, and daily functioning. ). Based on the answers they give or visible cues, more questions may be asked in regard to mental health—hallucinations, suicidal thoughts, etc. The intake navigator will assess if mental health issues are present and Leota will determine if they are placed with me.
Leota: Once they are in his care, he will start looking for the signs and begin connecting the individuals to the appropriate mental health resources. What I like about Anthony, is the way he works so gently with those he serves. Because for the most part, many clients don't want us in their business, so he may have to coax them to get to what ails them so that he knows exactly how to direct them.
Anthony also works with individuals to get them to "make all the connections needed" to move forward on their path to permanence. This can include appointments to immigration, doctor/dentist visits etc. during their time at the CARE Center.
Anthony: One of my roles is to help connect all the pieces so they can be more successful while we work together on their housing plan.
Leota: The key to Anthony's position is the connection to mainstream resources to identify and connect an individual to services that they otherwise can be unfamiliar with. Working with them so that they see their doctor, get meds, etc. so that whatever the symptoms, they are controlled.
Anthony: Helping them navigate this is really helpful when we're working on their housing plan. It makes them feel more a part of things…more in control…more invested, which makes for a more successful outcome in getting housed and staying housed.
Their housing plan is key in the housing first approach the CARE Center has taken in recent years?
Anthony: Exactly. Upon intake, we explain that this is an emergency shelter—the goal is housing and we work with clients to transition them forward and help them toward self-sufficiency. We have to have that exit date and exit strategy, and if he/she doesn't follow through, then we have to have the hard conversation….what shelter would you like us to send you to?"
Once housed, I'll continue to work with them for about 30 days to make sure that they're comfortable, connected, and thriving in their new home, sometimes longer depending on their needs. We are a no-barrier shelter, which means our goal is housing first, so we work with other outside organizations to line up targeted case management to help with specialized mental health needs.
This sometimes includes partner agencies that offer permanent supportive housing for those living with challenges who may need ongoing support and special care.
Now that you have been here a little over a year, have you both noticed a shift with the Shelter culture?
Leota: Having a mental health professional on staff is helping to address symptoms and behaviors that may not have been associated with mental health. I think the main difference is that a different kind of attention is being paid to individuals with mental health issues. Where typically it can lead to disruptions. What would happen? The police would be called, the individual would be arrested, and they would end up back at the shelter. So what's happening? They're not being housed, not being treated, and the cycle would start over again. Now that Anthony is here, we are better able to focus on those with mental health challenges, make the effort to address it, get them housed and connect them with the right services.
Anthony: I certainly think there are less disruptions. When I see certain signs I can take the steps to de-escalate.
Anthony works closely with St. Pete Police Department's CALL (Community Assistance and Life Liaison) Team, a human services team of clinical staff and community navigators that help provide a therapeutic, wrap-around response. This has resulted in fewer arrests and more tailored care.
If there is a disruption and we do have to make a call, we now have the documentation to share what type of mental health issues are being experienced. This leads to the proper course of care, such as baker acting, which can get the individual medically stabilized and prevent further escalation. In many cases, the individuals do come back. Not only are they more medically stable, but they are also able to qualify for outside mental health services with partner organizations to establish a mental health plan and medication, while we continue with their housing plan.
Leota: We are planting seeds and hope something will grow. I am so proud of Anthony, and the entire team we have here. They take the time and talk with the CARE Center guests to be their advocate for housing.
---
End Homelessness
for neighbors in need throughout the community
Anthony, Leota, and the CARE Center team work around the clock to help neighbors in need, 7- days a week/365 days a year. It is the point of entry for homeless services and includes storage lockers, a shower program, and assistance in applying for jobs and benefits. For more information on the CARE Center or to learn ways you can help your neighbors in need, visit www.SVdP.CARE/CARE-Center
Stay tuned for our Summer appeal where you will hear the inspiring story of a woman Anthony recently helped to house.